There are a lot of things to do in the Animal Crossing Happy Home Paradise DLC. From visiting Kapp'n, playing horseshoes with Rover and more! Let's take a look at what all facilities you can visit in this new expansion pack.-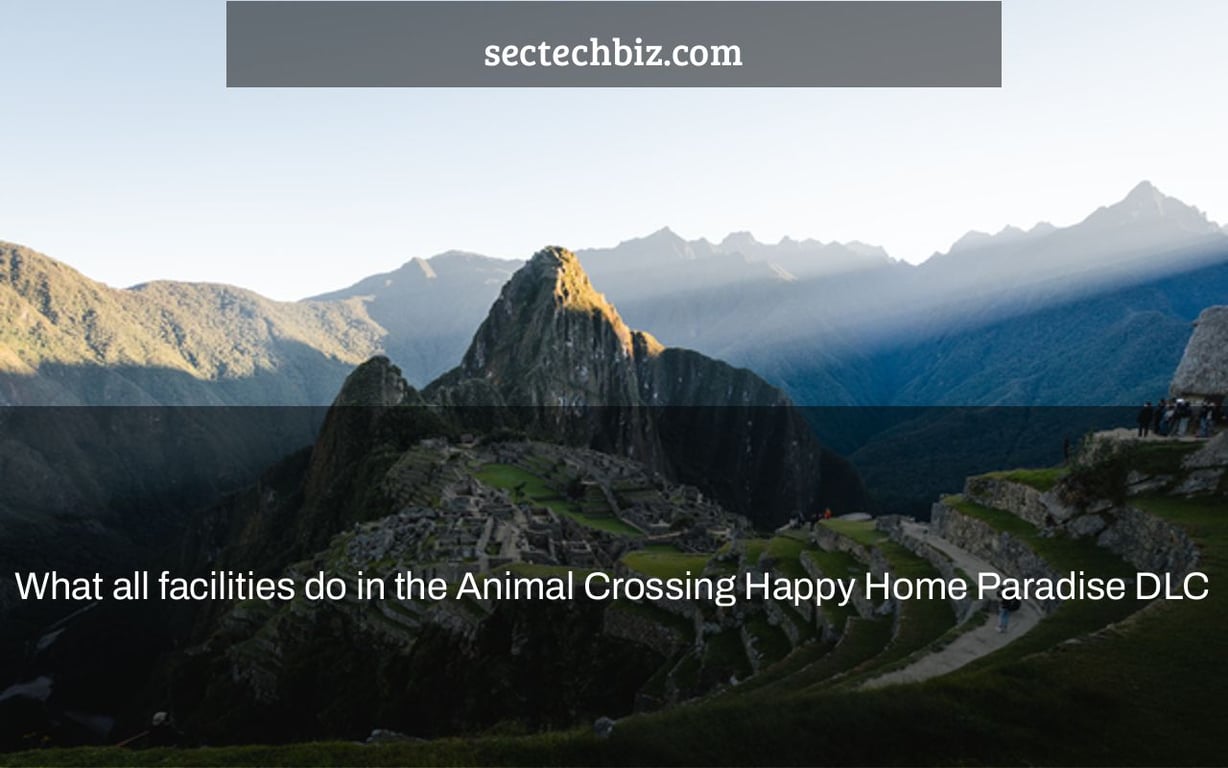 Throughout Animal Crossing Happy Home Paradise, players may construct a variety of facilities, each of which performs a particular function. These facilities may supply gamers with a slew of additional features and hidden gems, and we'll go over them in detail in this guide.
School
In Animal Crossing Happy Home Paradise, this is the first facility you build. At the beginning of each day, the School's instructor will offer you one Plumeria. Once the school is completed, you may invite instructors to come in and conduct a lesson. This necessitates a shift in the day, therefore you won't be able to have a teacher visit on the same day you create the School.
Leif will be the first instructor to come, and he will be walking the island when you arrive. If you speak with him, he will tell you that he is here to teach a class at the school. Then you'll accompany Leif to the school, where he'll show you how to decorate vacation houses with flowers, vegetables, fruit trees, and shrubs.
After you've provided Niko all of the resources he needs for his DIY projects, he'll also conduct a class at the school the next day. He'll show you how to manufacture pillars and island counters so you can utilize them in your own house and in holiday homes.
Nat, a chameleon, is another instructor that will come to your island. You may also find him walking the island, and you can show him about the School if you chat to him. Nat will provide an insect lesson, allowing you to fill the outdoor areas of holiday homes with any bugs you desire. If you want bugs to spawn on trees, you must first create a tree for them to sit on.
Restaurant
The restaurant is a big structure with two rooms: the dining area and the rear kitchen. More guests may be seen here browsing for holiday homes and eating a bite to eat. This provides you with additional possibilities when determining who you should construct a house for.
While you cannot purchase food from the restaurant, it may help you improve your culinary skills. You may go inside the kitchen once a day and speak with the chief chef. If you agree, the head chef will offer you a cooking recipe that they have produced, and you will be able to increase your cooking DIY recipes.
Café
The Café is a tiny one-room facility where vacation home seekers may have a bite to eat. This feature enables you to expand the number of guests you may have at one time, giving you additional alternatives when choosing a vacation home. You may really purchase food and beverages to enjoy, as well as items to adorn your house with. Every day, the menu at the Café will vary, allowing you to sample a variety of delicacies.
Hospital
The hospital is a vast building that starts with two rooms but may be enlarged. Unlike the Café and Restaurant, this is a place where only present holiday home tenants may be found. If you speak with the receptionist, you may contribute 120,000 Poki to help the hospital add a patient ward. This patient ward will simply provide your hospital with another space to decorate and accommodate more vacation home residents.
If you speak with the receptionist, you may make an appointment with the doctor once a day. This option will enable you to purchase cosmetics with a medical theme. When the receptionist inquires about your symptoms, be honest. The doctor will treat you differently depending on whatever option you choose.
If you claim your head aches, the doctor will inquire about how you are feeling. "I'm dizzy," or "My head is pounding," are two options. If you tell the doctor you're dizzy, he or she may offer you eye gauze or a post-op patch. You can obtain a bandage, mummy mask, or head bandages if you say "My head is pounding."
You may tell the doctor that "my nose is flowing" or "my nose is running" if you informed the receptionist that you had a runny nose. If your nose is leaking, you'll receive some nose tissues; if it's running, you'll get double nose tissues.
The receptionist's last option is that your knees ache. You may say "It's a stinging ache" or "It's a dull pain" when you arrive at the doctor's office. You may get knee bandages or a mummy suit if you pick stinging pain. You can get a cast or a mummy suit if you pick a dull ache.
Joan pays a weekly visit to the hospital, which is a little-known fact. If you converse to Joan during her visit, she may be able to offer you free turnips of 30, 50, or 100. Then, anytime turnip prices are high throughout the week, you can sell them for some additional cash.
Clothing Store
The Apparel Shop, a tiny clothes shop, is the final structure you build on the island. You may purchase a variety of clothing, shoes, and headwear to let you express yourself. Only Poki may be used to buy products at the Apparel Shop, and there are only 6 items available. Every day, the goods in the Apparel Shop will be updated, providing you a wide range of apparel alternatives.
By showing the appropriate attire, players may influence what sort of clothing the business offers. Cute, simple, flamboyant, cool, loose, or anything-goes are examples of diverse styles. To acquire charming clothes, you must exhibit clothes with a cute style, simple clothes must be displayed with a simple style, and cool clothing must be displayed with a stylish style.
When it comes to spectacular clothes, you need clothes with an exquisite design, and loose clothes originate from showing active-type clothing. Anything that isn't in these styles will go into the "anything goes" category.
This is what all of the amenities in Animal Crossing Happy Home Paradise can accomplish for you. I hope you found this information useful! More Animal Crossing New Horizons guides will be coming soon!
Frequently Asked Questions
How many facilities are there in Happy Home Paradise?
A: There are 9 facilities in Happy Home Paradise.
What can you do in Happy Home Paradise?
A: The game is primarily about building a happy home for your family. You can decorate and furnish the interior of your mansion, then expand it by adding new rooms. Outside there are many different areas to build as well, including gardens, ponds and even an amusement park!
What are all the facilities in ACNH DLC?
A: There are ten different facilities in the ACNH DLC. The three new ones being Bayville, Georgia, Mount Weather and Camp David.